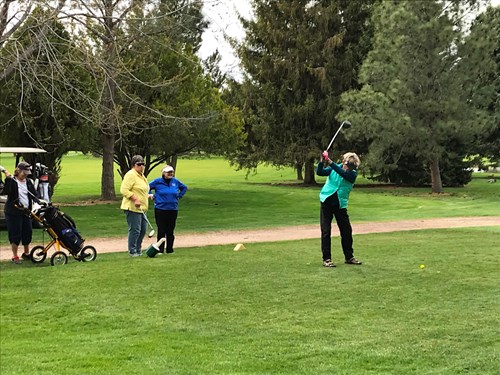 The Warm Springs Ladies Twilight League is a competitive league that runs from late April through early August.  The format is a two-lady best-ball, with a 5:45 pm shotgun start on Wednesday evenings. 
ELIGIBILITY: All players must be a member of the Warm Springs Ladies Association - Twilight League, and have an IGA handicap. The maximum handicap allowed for league play is 40. Substitute players are not required to be members of the Warm Springs Ladies Association; however, they are required to have a current IGA handicap.
LEAGUE: The league will have a maximum of 28 teams, where each team consists of two players. These teams will be split into flights determined by the players handicaps, where the lower handicap of the team determines the flight. Regular league play will consist of 14 weeks of competitive play, where each team plays against every team in their flight twice. Additionally, there may be weeks designated as "fun play" where players from different flights will be mixed together to play different formats.
TEAMS: Each team shall consist of two players, with a maximum handicap spread of 10 between team members.
LEAGUE PLAY AND SCORING: Regular league play will consist of 14 weeks of competitive play, where each teams plays against every team in their flight two times during the season. Each night of regular league play, two opposing teams will play 9 holes of golf against each other utilizing the best-ball format. Each team will earn a point for each hole that they win based on net best-ball score. In addition to the 9 "hole points", one additional point will be awarded to the team with the lowest best-ball gross score. If a team is absent for a night of play, the absent team will receive 0 points and the opposing team will receive the low-gross point automatically, but must play against the course to win the hole points.
FEES: Each player is responsible for their association dues, green fees and cart fees.  Association fees are due prior to the start of league play. Green fees for the entire season are to be paid on the first night of league play.
RULES OF GOLF: Standard rules of golf shall apply to league play.
SCORECARDS: The Pro-Shop will provide scorecards to each team each week when they check in for play. The scorecards will include playing groups and starting hole information.  Players must turn in scorecards to the front desk upon completion of play.
POSTING OF SCORES: The Ladies Association Handicap Committee will post league play scores, please do not post league scores yourself.
SUBSTITUTES: If a player is planning to have a substitute play for them, that player should notify Peter Nichenko of the substitutes name and IGA number, as well as the name of the player who will not be playing and the date for the substitute. This information should be provided as early as possible so that score cards can be adjusted accordingly. The Pro-Shop staff will not secure substitutes for absent players. A list of substitute players is available at the Pro-Shop.
LATECOMERS: Players should tee off at the assigned start time (5:45pm) and not wait for players who may be running late. If a player does join late, that player may not use scores for any holes missed, and the group should not replay any holes that the latecomer missed. However, if one team member is on-time and the second team member is late, the on-time member's scores can be used to obtain points for those holes that they have played. If both players of a team are late, they forfeit the holes that they were unable to play with their opponents, and the opposing team wins those hole points.
BAD WEATHER: If a league play night is cancelled due to inclement weather, that night of play will be made up sometime during the season
REMINDERS
Show up on time: Be ready to tee off at your assigned hole at 5:45 pm; please be at that assigned hole by 5:40 to ensure on time tee off.
Handicap: Team members and substitutes must have a current IGA handicap. A temporary handicap can be established with five, 18-hole scores.